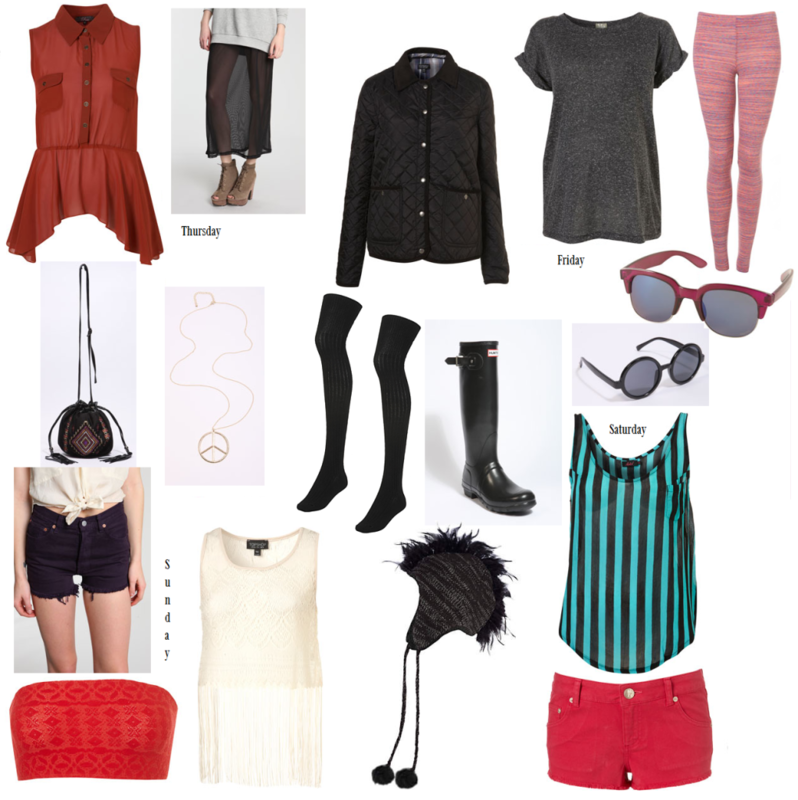 Elle of the Ball's Sage and Wise Festival Advice
Go for block coloured wellies rather than patterned ones as they limit what you can wear.
Bring knee high socks as wellies are no silk slippers.
Batiste Boho is a lifesaver
Don't wear jeans. They're too warm when sunny. Not cosy enough when cold, and heavy when wet.
Babywipes. Toilet roll. A pack of tissues is handy to carry into the venue.
If the weather is nice get your pins out but bring tights for when the rain inevitably rears it's ugly head.
Mouthwash. Bring a 2L bottle for water. You can fill it for free when you get there To brush your teeth. Drink first thing in the morning. Even throw in one of those free sachets of shampoo and use it to wash your hair. Batiste is no Cilit Bang. It'll tackle the grease not the mud.
Put your drink in plastic bottles. And bring plastic cups for spirits or if you'd like to pretend to still be civilised while sitting in mud.
Boxes of wine. Admittedly wait until you're slightly buzzed before trying to stomach it.
Bring a chair. Or an inflatable couch! As good as the line up is sometimes the craic is just around the campsite. Sit back, crack open a can and enjoy the madness.
Don't set up camp near the portaloos. I see people willingly do this at festivals and it just bewilders me.
Print out a timetable. You can buy them on the way in but I think they're like a tenner and we are in a recession. You can find one here. Highlight the bands you want to see so you don't miss out.
A wheelbarrow is handy for throwing everyone's drink into on the way in and carrying everyone's bags on the way home.
Mark your tent with some sort of bright flag to make it easy to find after those late night trips to the portaloos.
Conserve your phone battery for when you get lost after those late night trips to the portaloos.
Antiseptic hand gel. We all bought some during that whole Bird Flu epidemic. Root it out.
Talk to the campers around you. Share a beer bong. You scratch their back they'll scratch yours.
Tinted moisturiser. Mascara. Concealer. Cream blush rather than powder. Chances are it will break. The natural look is best. Eyeliner and lippy can vamp you up if need be!
Cereal bars, m&ms and crisps for sustenance.
Wax before you go. No instant tan. Bring a razor for any prickly bits! Baby wipes will substitute as shaving foam.
Tie a scarf in your hair to keep it looking pretty and hide the mane that lies beneath.
Inflatable mattress for the ultimate glamping experience.
Bring your ticket. Obviously.
And finally, go see Little Green Cars
Saturday 2pm Heineken Green Spheres