Spring Summer 2011 Collections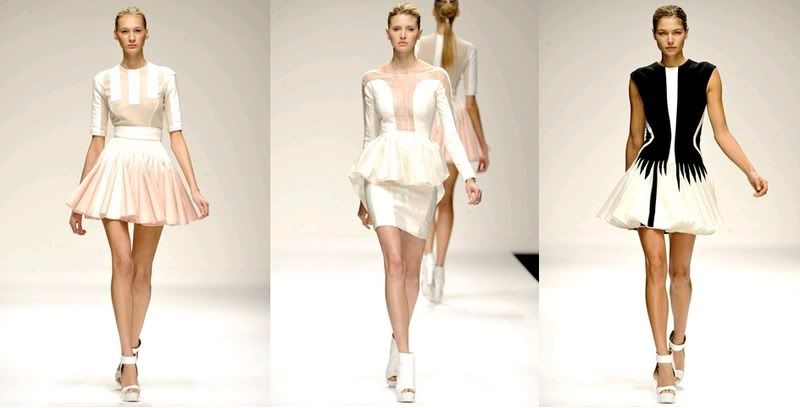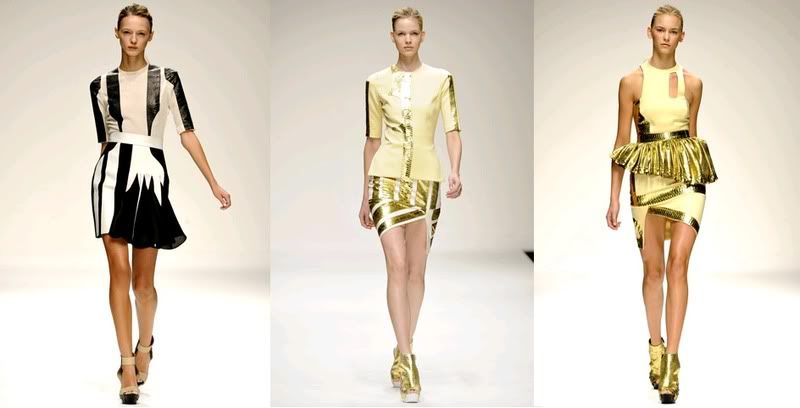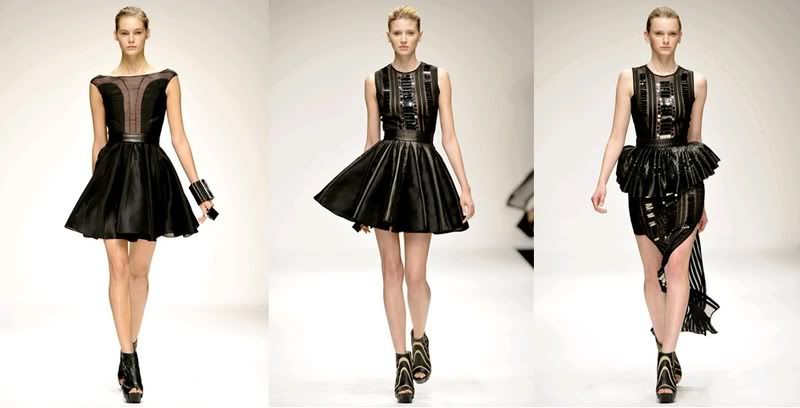 Maybe it's just after New York where everything was quite functional and structured, but the London collections seem quite random and thrown together. By comparison no doubt. I think that is why I loved Komas collection. I recommend you flick through it on style.com or watch it on youtube if possible because it is captivating. Despite the
minimalism
of the clothes it
enthralled
me. You watch it develop and feel it grow as one piece blends seamlessly into another. Excuse the pun. I've set hopes up. It was far from perfect, I wasn't mad on the gold pieces. The structure of the clothes were supported by the well planned structure of the show, and for that alone, David Koma, you've got a fan.
Marios Schwab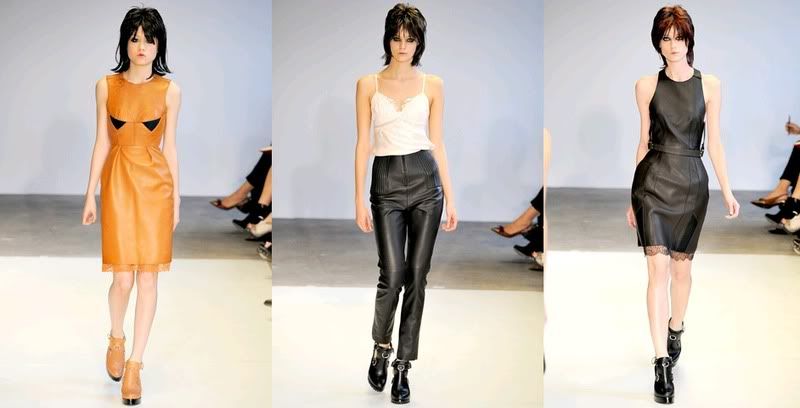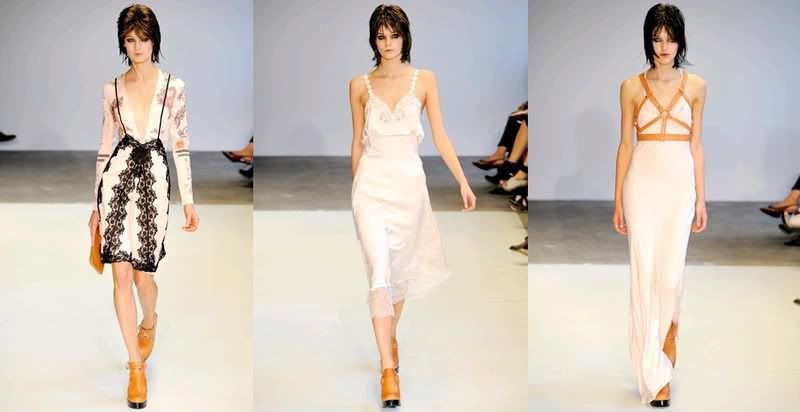 The first few looks were, in my eyes,straight out of the costume closet from The Runaways.
Grungy
, 90's, kinda cool, if it wasn't all so costume-like and dare I say it, cheap. I was iffy, and then, it got really pretty. And then I understood it. And then I clicked on to the last look, which was utter perfection. Mario Schwab consider your ass saved.
Basso & Brooke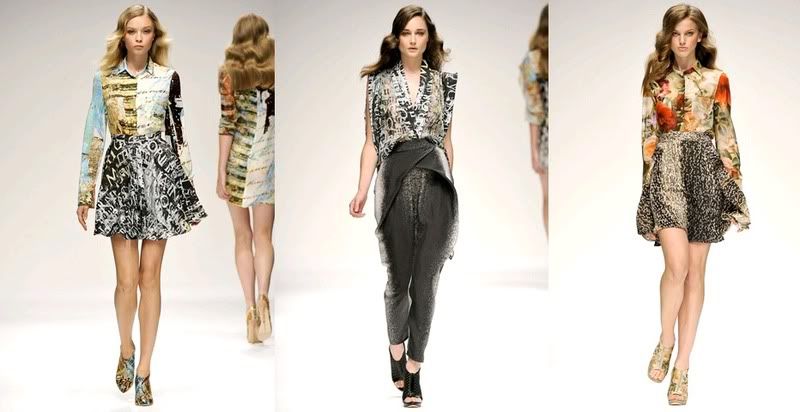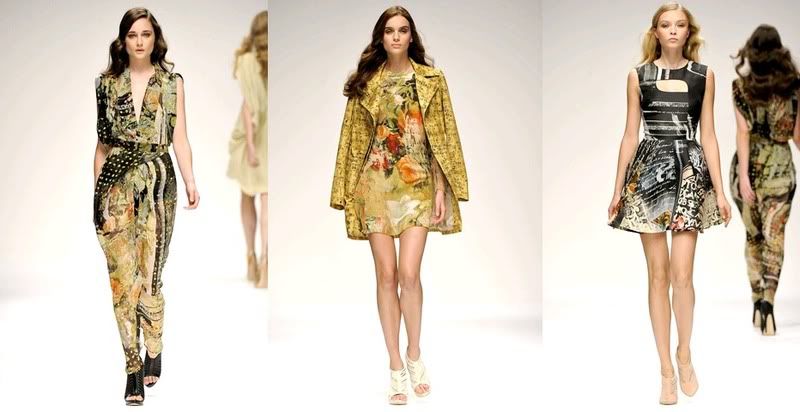 One of my pet peeves is writing on clothes. I hate it. Especially those slogan t-shirts 9 out of 10 boys in coppers choose to sport. Anyway, for some reason the fact that this collection was
covered
in the printed word didn't deter me. It's not as dominant as previous Basso & Brooke collections have been, but, clearly in my eyes that is only a positive. It works. It's wearable and it's quite pretty.
Antonio Berardi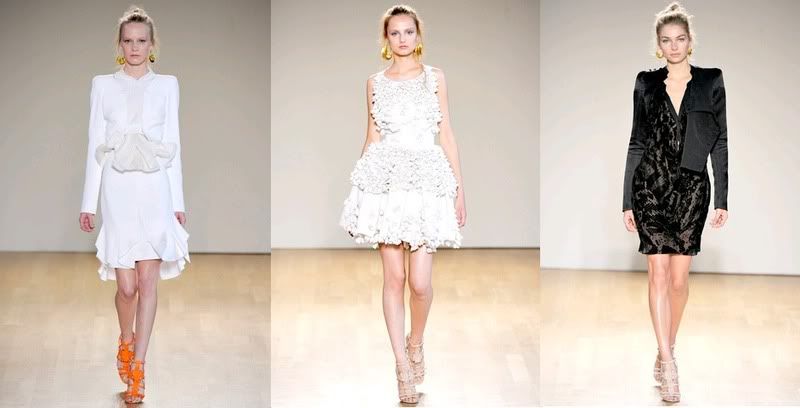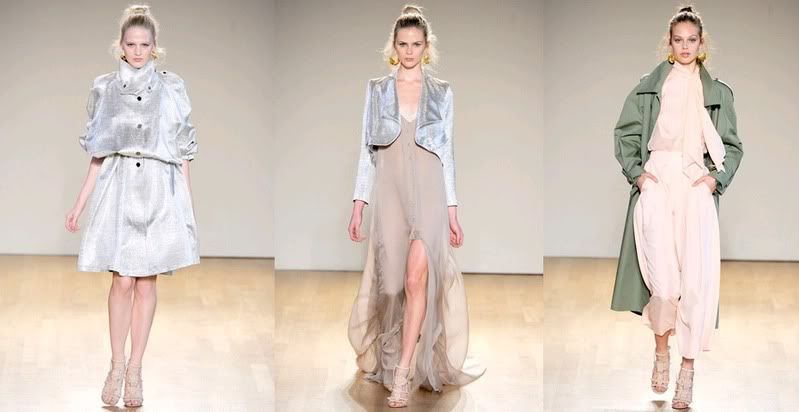 Timeless, classic, absolutely gorgeous collection. I love it all. Berardi clawed out of his skin tight dress and produced one of my favourite London collections. Love.
Erdem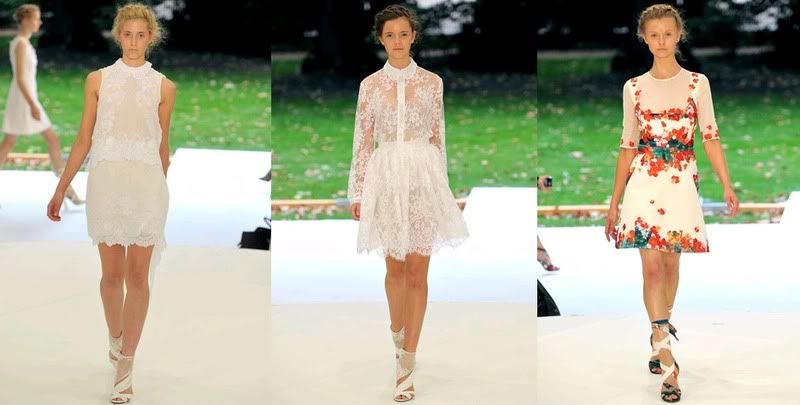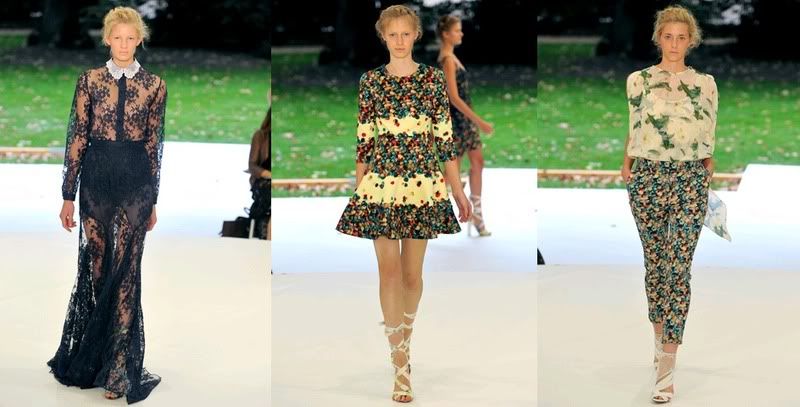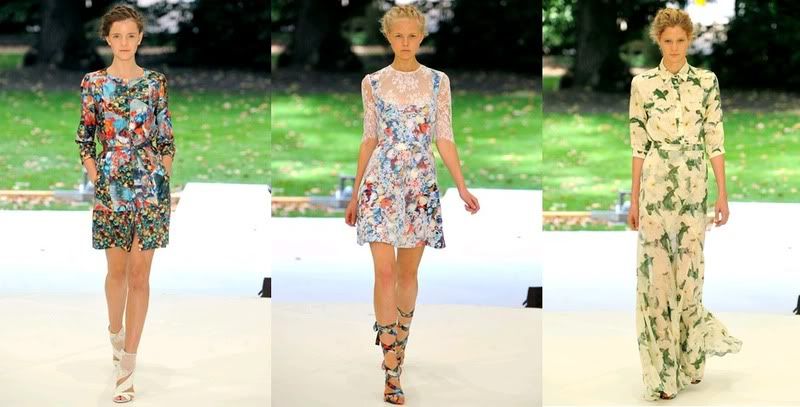 'Florals? For Spring? Groundbreaking'
They all went for a roll around in a meadow and this is the result. A little granny chic at times but gorgeous nonetheless.
Giles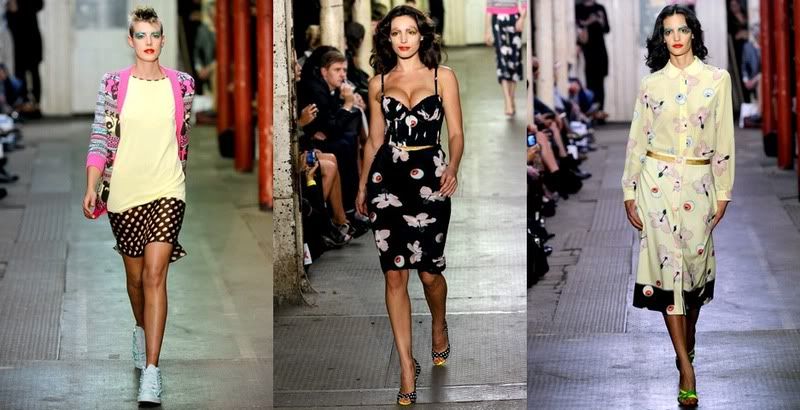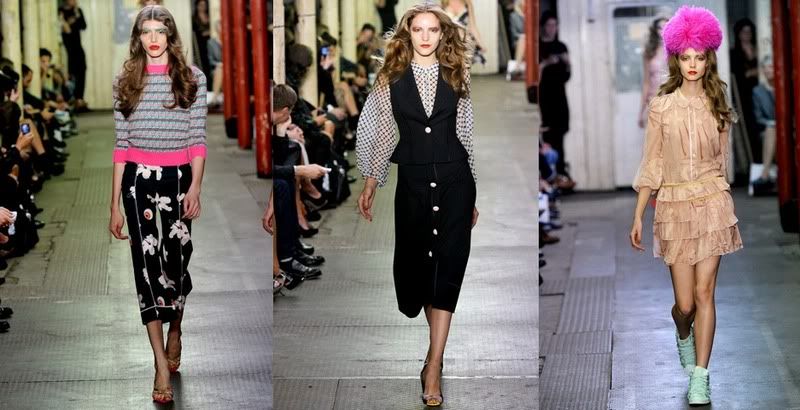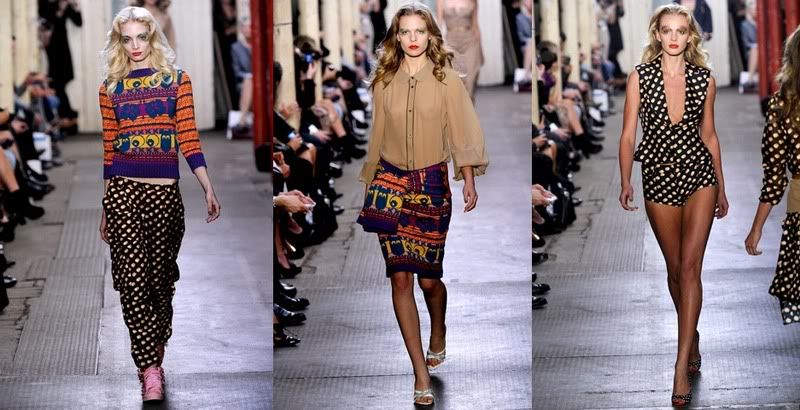 Want the London look? Get Giles. It's street style, it what you'd see in Victoria Station, in Camden Market, down at Canary Wharf. It's quite 90's and yet, it's just plain cool.
Topshop Unique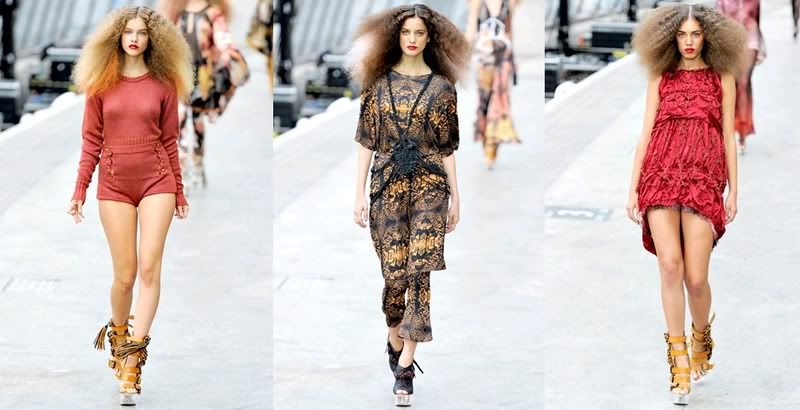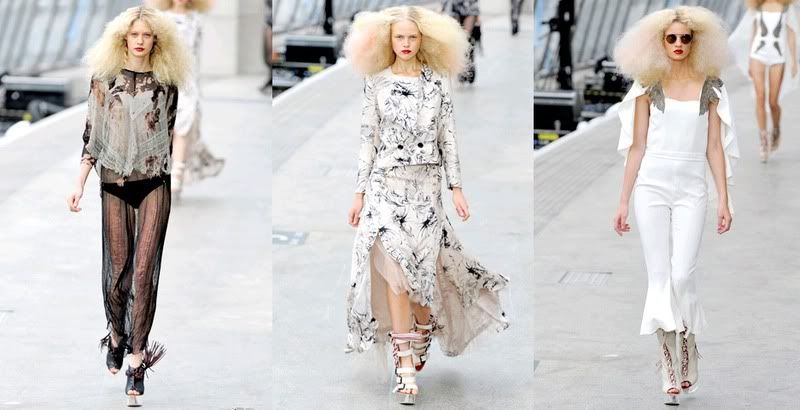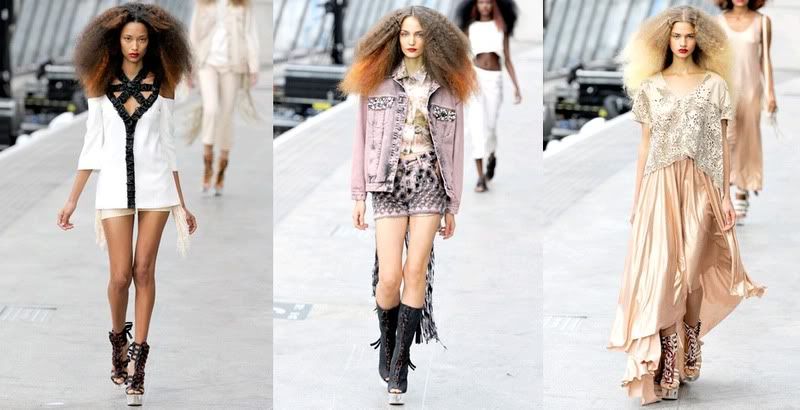 A mish-mash I think is the best phrase. Huge collection also. I suppose on the assumption that the more pieces the more there is to like. It didn't fail. Some I hated, some I loved.
Burberry Prorsum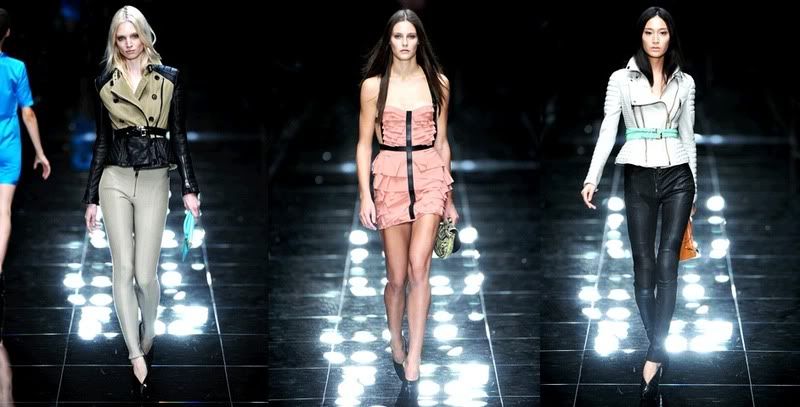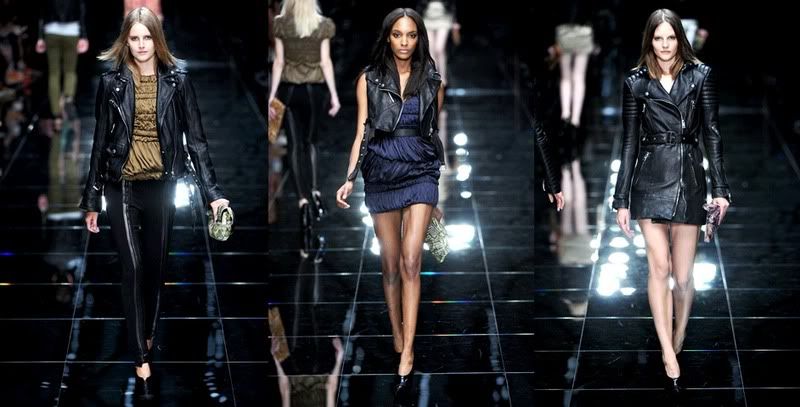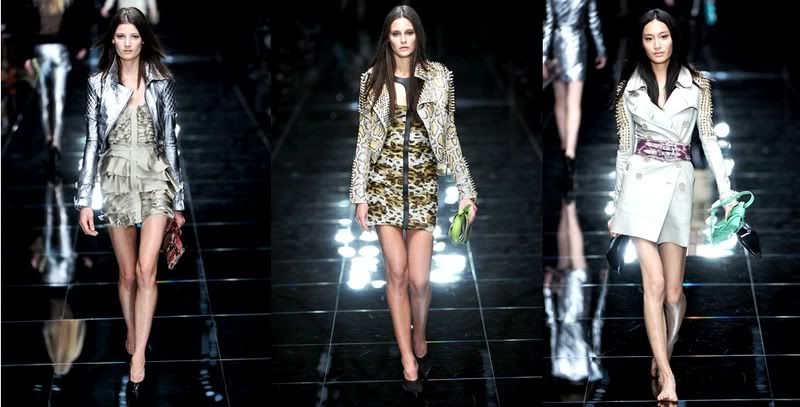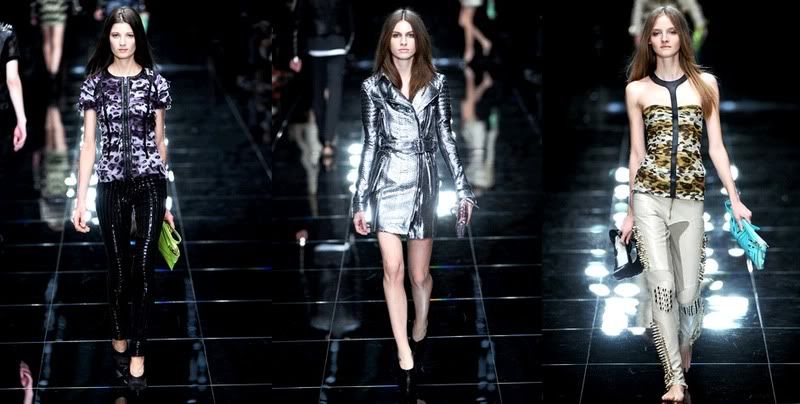 For the first thirty looks I was bored, seen it all before. Then it got interesting. A
metallic
trench here, a studded shoulder there, neon belts galore and even a little leopard print for good measure. I can get on board with a versatile Burberry. Impressive.
Twenty8Twelve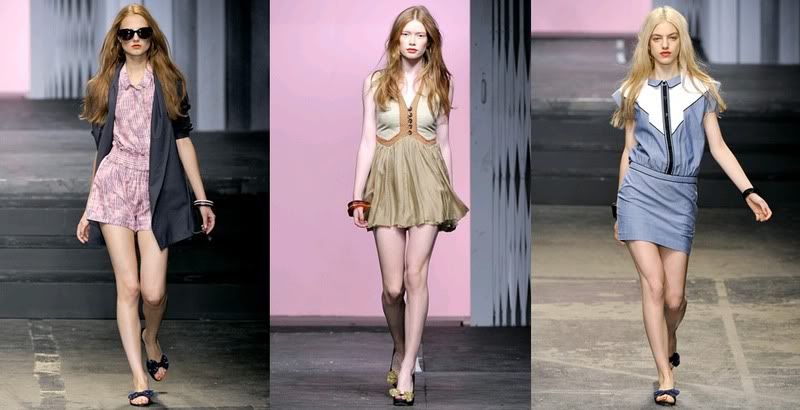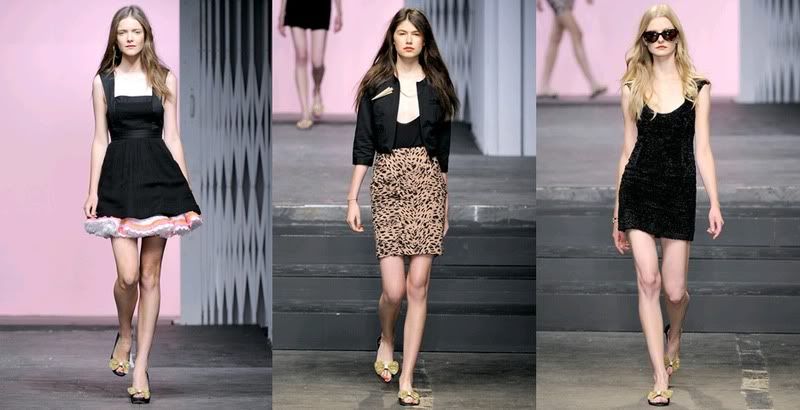 It's cute and very wearable. I mean you could see Sienna in almost all of it. In fairness, they're on to a good thing there. Who doesn't want to dress like the Millers.
Charles Anastase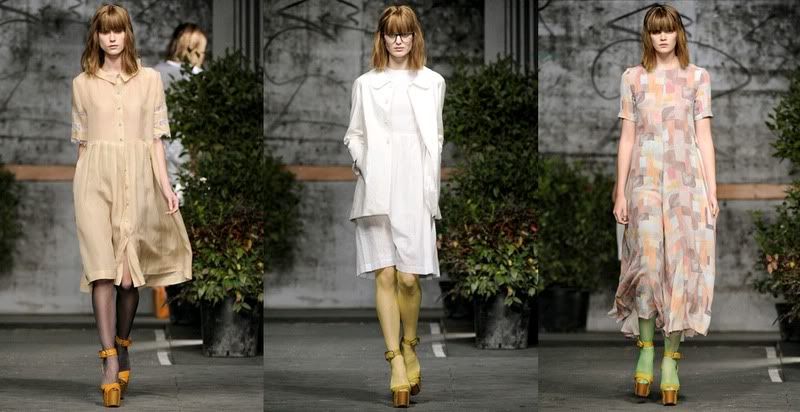 I've always loved Charles Anastase. I love how preppy he can be and in the same stroke of genius be completely edgy and off the wall. His clothes speak, I know that's so lame but, seriously his collection tells a story. He creates, not only a woman, but often several and unifies them in a scenario which is unique to his vision. A vision, which he willingly shares with us. I love him. And those shoes are simply awesome.
Sass & Bide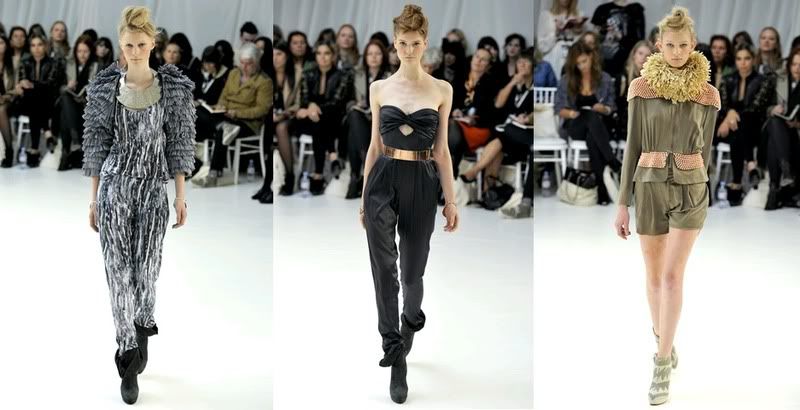 Easily my favourite London collection. There was not one look I didn't love. Different, unexpected, but, truly amazing.