In continuation of the Style commemoration I give you the people I believe have the potential to begin to, or continue to influence the next decade of style and fashion.
Carine Roitfield and those behind the scenes of the fashion industry
Carine is incredible, so too is Emmanuelle Alt and Giovanna Battaglia and Anna Wintour and so on so forth. I find it incredible that women who are so influential in the process of bringing the catwalk to our living room (or even dentist waiting room), the people who essentially make fashion accessible, are so greatly unappreciated as style icons themselves. This should indeed be the decade where these women come out from beyond the pages of the magazines and become recognisible beyond thesartorialist.com or style.com and allow their own personal style to influence the masses.
She can steal her mothers clothes. Nuff said.
She's 3, she wears heels. It's gonna be big.
See Julia Restoin-Roitfeld
One of the Nickelodeon crew. They beat the Disney mob, in that they can come out the other side of the association with the network relatively unscathed style wise.
The woman is class personified. Plus with another few years in the White House I'm sure she has some beautiful outfits lined up. Plus she already has a Vogue cover under her belt. Plus shes a contender in the race against Carla Bruni for most stylish first lady. Plus I love her.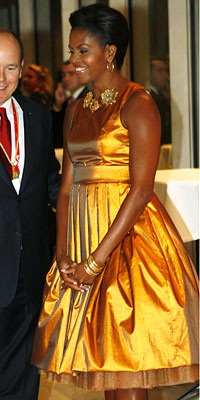 I live in the vain hope that, should Girls Aloud get back together, people will realise that Nicola Roberts is, in fact the most stylish member of the band and, that Cheryl Cole has a frickin' stylist!!
Came into focus in the New Moon promotional tour but, also had an incredible Teen Vogue shoot which, although I'm aware it was not self-styled, it was just so fabulous that it deserves a mention. Plenty more to come from this one me thinks.
Style blogs only really became uber relevant in the last decade and, as far as I can tell that is only set to continue into the next decade. It's hard to pick a selection to mention so instead I'll name no names!
Images via style.com, zimbio.com, instyle.com, justjared.buzznet.com, teenvogue.com.