Happy New Year my darlings!
Thought I'd use my first few posts of the new year to commemorate those who have really impacted the style and musical output of the last decade, and those I hope will come into focus in 2010.
Firstly we're going to have a look at the stylistas of a decade that I will not refer to with that horrible media word that has been fashioned for the year 2000-2009. Blah. Anyway...
I can't help it her dress from the rainy Harry Potter première in London began an infatuation that shows no sign of going anywhere.
Queen of the cat
walk, queen of the models, queen of trends- style queen.
I love her. Was once told by someone that I remind them of her. Made my year. The Mulberry Alexa bag has a place on my wishlist, I want it more than the Ostrich Bayswater!
She beat the designers in her trend-setting ways. Takes a true fashion wonder to do that. Oh and Twenty8Twelve is, in my opinion, one of the most credible celebrity fashion labels due to its association with Ms Miller.
Not loved by all but, credible in the fashion world and iconic to me!
All the designer clobber one could dream of. Four girls with completely different style, all the drama you could want. It's Chanel bags at dawn, love it.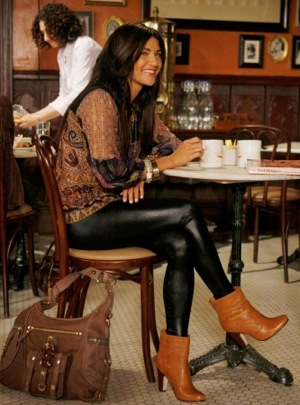 The Sex and the City ladies.
As above, just replace 'drama' with 'melodrama' and 'Chanel handbags at dawn' with 'Manolo Blahniks all day long'
Classy bird, I shake my head in pity at those who determine Posh Spice a chav. Pur-lease she's Jackie O with more embellishment. I allow a lapse of judgement on the Burberry hats and his and hers outfits all was forgiven with her new line. Uh-mazing.
There is scarcely a look in hollywood that doesn't have a little of the Rachel Zoe magic behind it. Ledgebag.
The MTV generation of reality tv girls
Lauren, Whitney, Olivia &co. Unfortunately can't include Stephanie Pratt, Audrina Patridge, Kristen Cavallari, Heidi Montag, Lo Bowsworth or Stacey and Roxy. No offense intended you just didn't make the cut, close though...not really.
A champion of Rachel Zoe and the size Zero movement. Thankfully now she has had a couple of babies and is looking a little healthier these times. Her House of Harlow range is to die for. I love, love, love it. She has that free and effortless style that seems to be trickier to achieve than it looks but, the lovely Nicole attains it spectacularly. Also, she looks gorgeous while pregnant and not in that oh so fake 'you're glooowing' kind of way, like literally hot. Fair play.
That's it for now, pretty good decade fashion wise. My Trilby hat off to you ladies.
Images via style.com, elle.co.uk, cwtv.com, hbo.com, justjared.buzznet.com