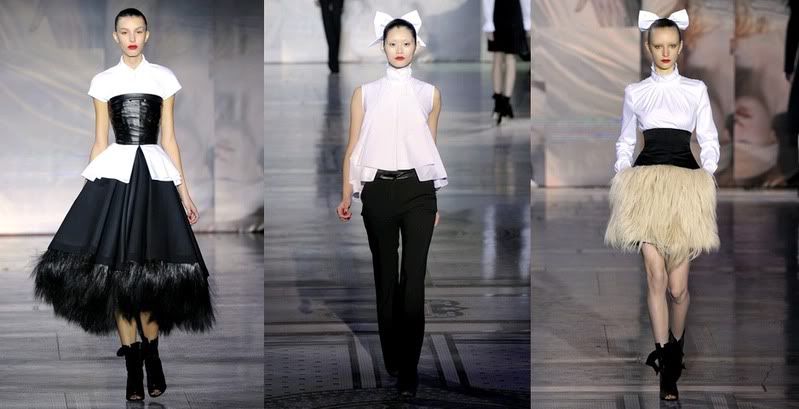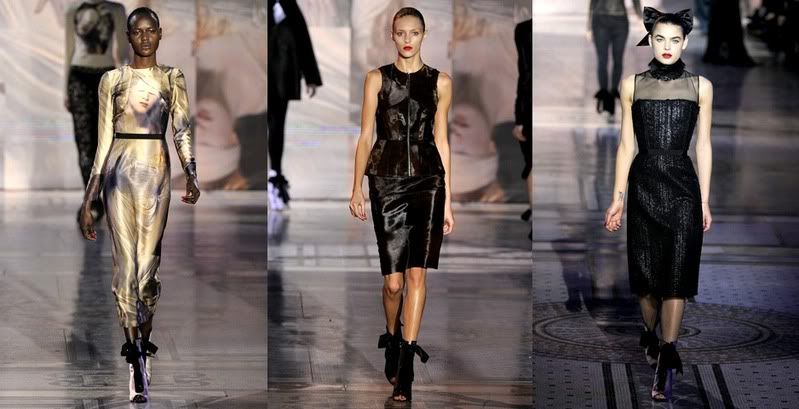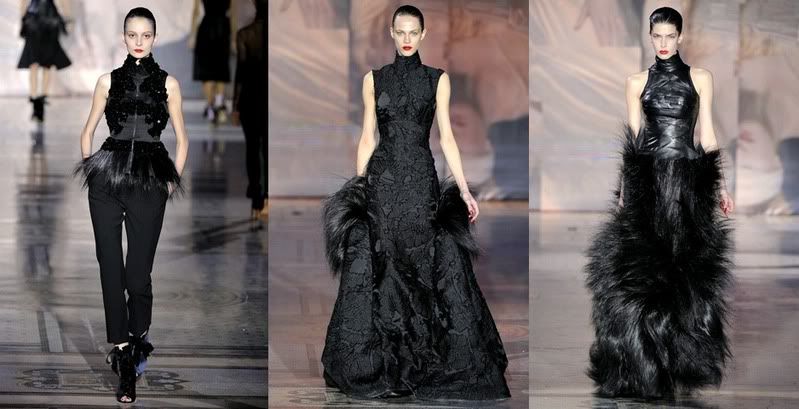 You know when the second look is a full skirt with a fur underskirt, that the collection is a good one.
Antonio Berardi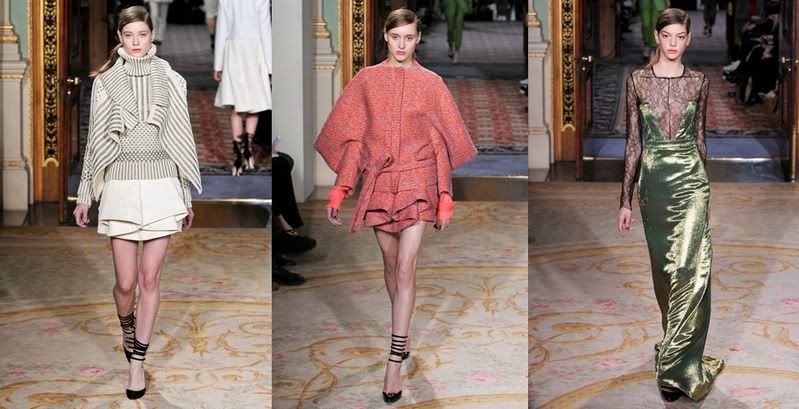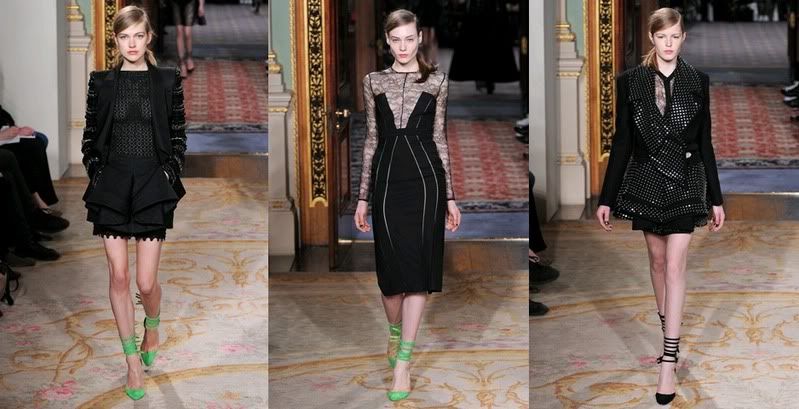 Classic cuts and styles with modern and often futuristic fabrics. The texture photographs beautifully. The stud work is innovative and unexpected, yet it fits well with the collection as a whole.
Erdem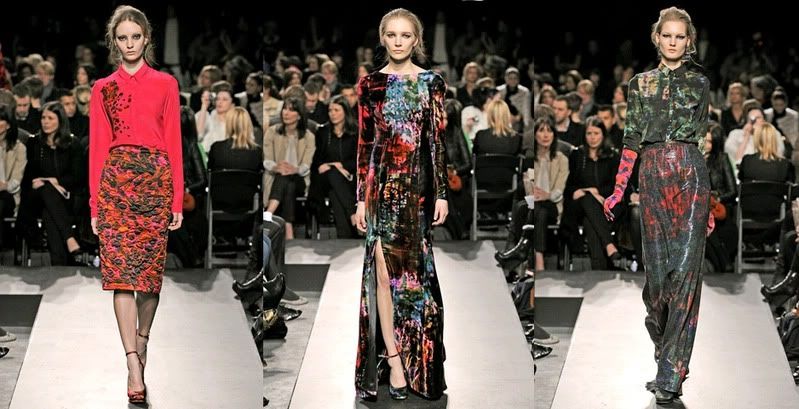 Apparently the muse for this collection was a scorned artists wife who destroys his paintings and wears them as clothing. The patterns are definitely art like. I would have liked if the entire collection was the splash-work pattern. A lot of love for the last couple of dresses.
Sass and Bide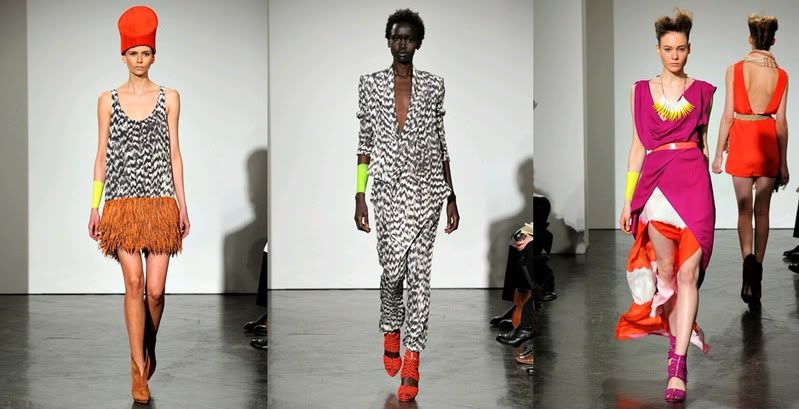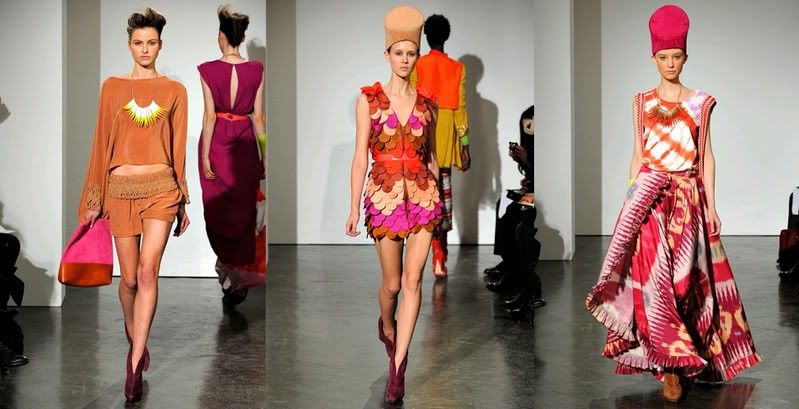 Kind of strange for Sass and Bide to choose bright colours for Fall. Given that their trademark for the last few years have been heavily studded leather leggings. They're on Australian seasons though, so maybe not that surprising. Adore all of this. The purples and suede. The feather details are beautiful and I would love one of those necklaces. Hint.
Mulberry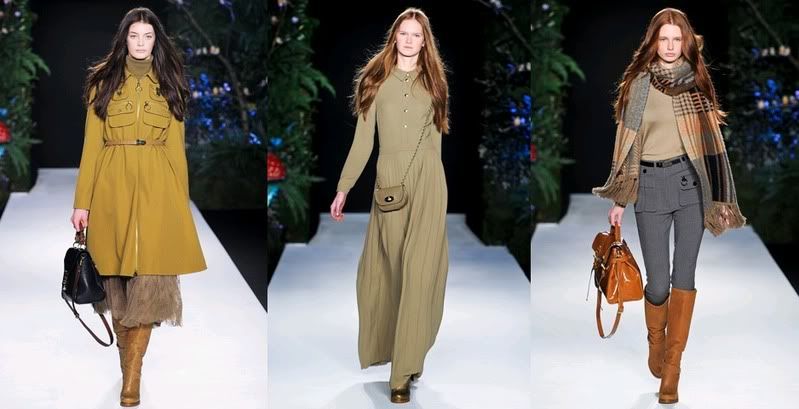 It's classic Mulberry. Preppy, English sophistication. Lots of Peter pan collars, duffel coats, full length dresses with pea coats and, of course, handbags.
Julien McDonald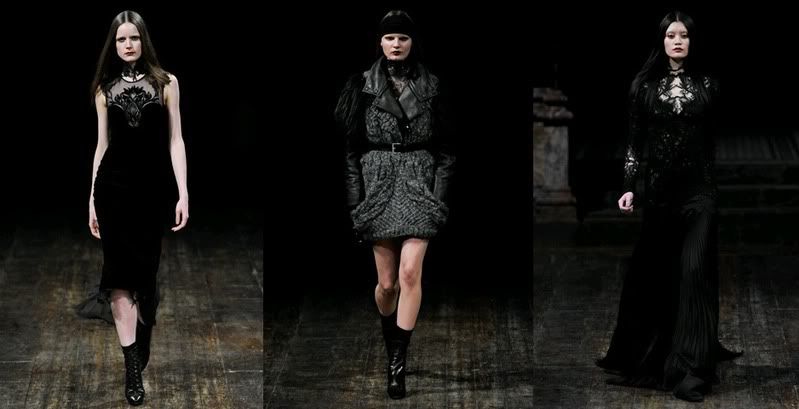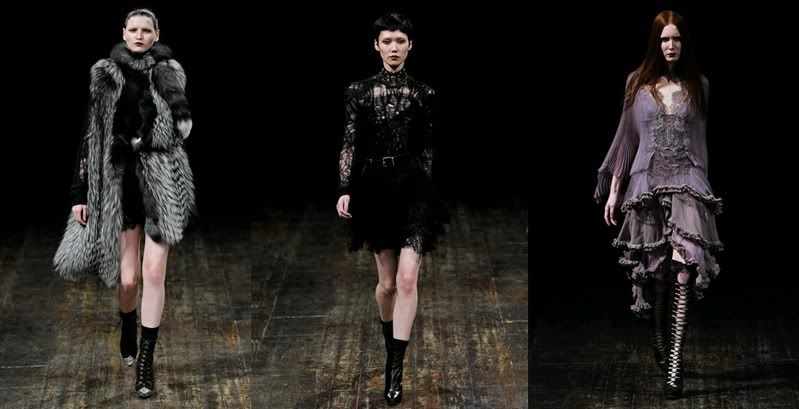 Victorian gothic. I think I have a bit of a preoccupation with that style. Adore it all. Studying Carmilla in college this week and this is exactly what I imagine her to wear. I'm no vampire but, even I would love to dress like this.
Fashion East
James Long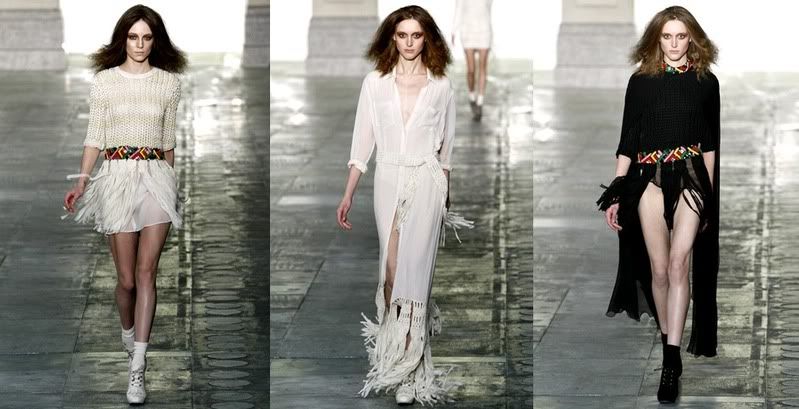 My favourite of the three. Beautifully crafted. Really felt like a complete collection. It fitted and moved perfectly. Loved the knitwear and the lack of colour. The black and white allowed the form to speak for itself.
Elliot Atkinson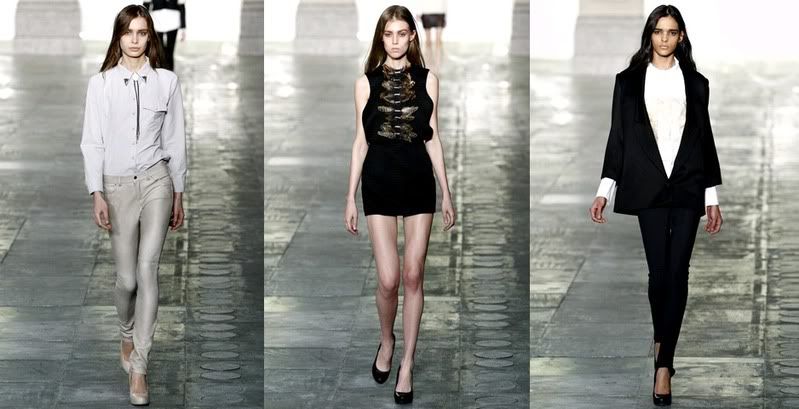 There was definitely a western hunting influence here. The last suit seemed like a bit of an after thought. The fur accents were well executed. Gorgeous.
Simone Rocha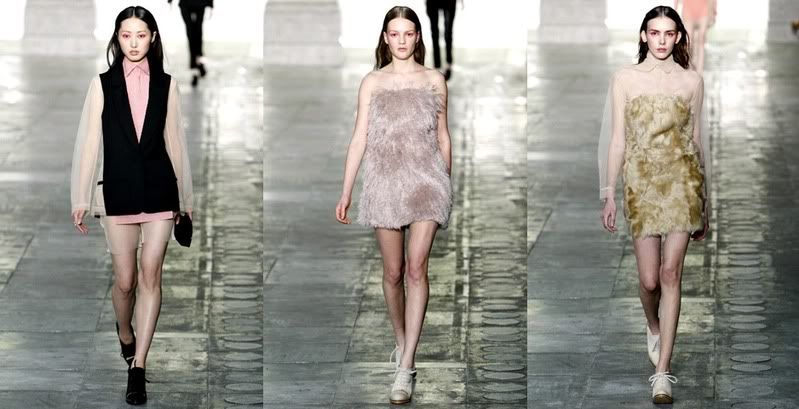 It's structured in how it's unstructured. Contradictory but makes sense in my head. She pulled apart designs and threw them back together. It works. Preppy and yet glamorous.
Charles Anastase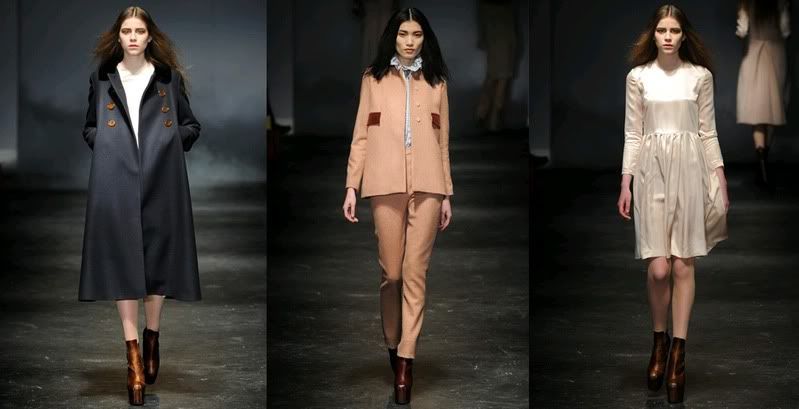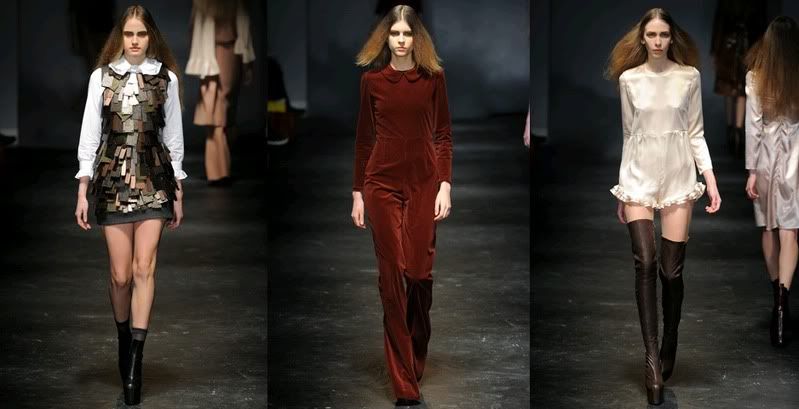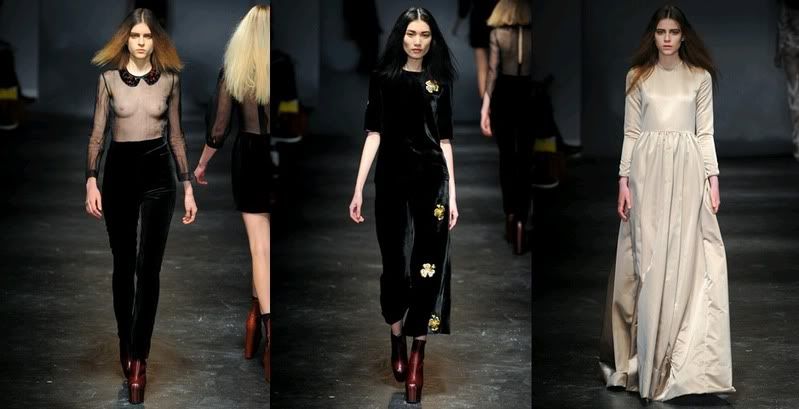 He is an acquired taste. I have definitely acquired that taste. It was the chunky platforms that first made me fall in lust and the image the collection creates that made me fall in love. You get to know his muse with every collection. I want to be her. It's a little more sexy than the oversized draping of previous seasons. It's well developed and subtle enough to not stray from the Anastase vision. Adore the ivorys, the patchwork and the red velvet jumpsuit was made for me.
Shocker about John Galliano right?
Haven't been this interested in employment since Carine left Vogue!